*We hope you enjoy all the crafty posts! Just so you know some links on this page may be affiliate links. For more information refer to our Privacy Policy.
Grandparents Day is the perfect opportunity for you and your kids to work together and create personalized, handmade grandparents day crafts for the special grandma and grandpa in your lives. We rounded up 20 of the best projects we could find to help you find just the right project to tackle.
The best thing about making a special Grandparents Day gift is it gives you time to work on something side by side with your own kids, something that makes it extra special for the grandparents.
You'll find something on this list for every interest and hobby. We included gifts for gardeners, cooks, book lovers, and golfers. There are also some great ideas for wall art, home décor, and some little trinkets any grandparent would love.
As for materials, some of these projects are a little specialized and require special tools and materials. Others are pretty simple. In fact, you might already have some of the things you need on hand.
Each one of these projects gets your children involved in a real hands-on way. Not only do they get to exercise their creativity, but they also get quality time with you and an opportunity to make something for someone special in their lives.
A Helping Hand Oven Mitt
We love this sweet idea from Trish on her site Trish Sutton and you only need four materials to make it!
They make great keepsakes and also remind grandma and grandpa that they'll always have a little helper in the kitchen.
Tweet Hearts Art
There are a lot of footprint-centered crafts out there but this fun one from Michelle at Crafty Morning is definitely one of the most creative. One of the best things about this project is it can accommodate however many grandchildren there are—just use a long sheet of paper!
Try a different color paint for each child's foot and place small footprints next to large ones to create some variety. You can go for a more realistic look for the legs and beak or simply use a black marker and add simple lines for a cartoonish look.
Melted Bead Sun Catchers
This method for making sun catchers using melted pony beads from The Artful Parent is so simple.
This is a great project for parents and kids to do together and there are a lot of ways to change it up. Try using a cake pan to create a large sun catcher or try metal cookies cutters to create different shapes.
I Love You Pillowcase
For an easy project that any grandparent will adore, we can't get enough of this pillowcase on and Jen breaks the project down pretty easily over on her CBC feature.
Have your little one write a message to their grandparents or, if they're too small to print letters, even scribbles will work. Write their name and the date to make it a proper keepsake.
Heart Thumbprint Platter
Kierste's platter has enough room for all of her two kids but this project can easily be adapted to any size family.  Detailed instruction can be found on her site, Simply Kierste Design.
While the hearts in the original design are red, you can change them to any color you want. Alternatively, you can use a single thumbprint and create a bunch of balloons for a more compact design.
Goofy Grand kids Album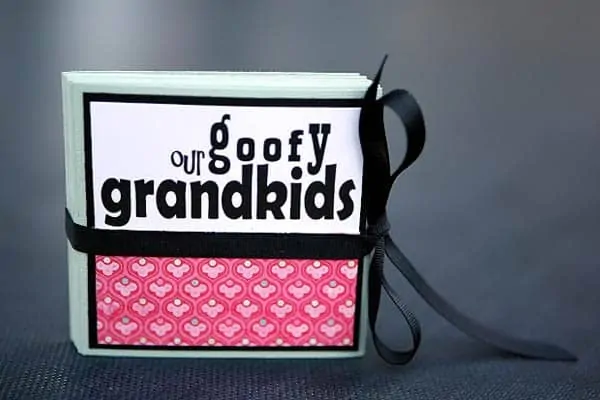 Jodie and Jen came up with this great idea that is sure to put a smile on any grandparent's face. They were kind enough to share it with us on their site, Eighteen25. You can print photos directly from social media or even stage a photo shoot with all the grand kids and capture new memories.
This is a great gift because it's something grandparents can display if they want to but it's also easy to fold up and carry in a purse or suitcase for travel.
Hand print Trees Wrapped Canvas
Although Laura designed her trees on Come Together Kids using a cherry blossom theme, you can easily modify this to make fall trees or snow-covered trees for a winter theme. You can use whatever fabrics you want to get the look you're going for.
This is another project that can be easily modified depending on the number of grandchildren and would look just as good whether there were four trees or only one.
Children's Art Tea Towels
There are a lot of ways to showcase your children's art but this process for making tea towels from Heather over at Setting for Four is one of the most creative we've seen. It's a perfect addition to any kitchen and would look lovely hanging in front of grandma's oven.
This project is great for the kids to express their artistic ability, who knows you kid might be the next Picasso!
Clay Photo Frames
This easy project from Activity Village is a great one for little hands. All you need is a photo of your child, air-hardening clay, cardboard, a magnet, and gems and charms to decorate.
The kids love this one because they are able to get their hands dirty but clean up is actually quite easy!
Handprint Sun Catchers
For an easy project that makes a big impact, take a look at these hand print sun catchers on The Best Ideas For Kids. All you need is tissue paper, scissors, and clear contact paper.
You can make the cool heart shape that we linked to or have each grandchild make a single hand.
Handprint Apron
If one of your child's grandparents likes to cook or garden, this project from Little Page Turners is a wonderful idea. All you need is a plain apron, fabric paint, and a paint pen.
We love this crafts because kids imaginations can roam free! Try bright colored paints on a white apron or white paint on a black apron for a different spin.
Fingerprint Keychains
There are a lot of hand print and fingerprint crafts out there because it's just such a cool way to celebrate growing children. What's so cool about this project from Krystal at My Life of Travels and Adventures is that it's a keepsake as well as a practical gift.
You only need a handful of materials for this project, some little fingers, and a whole lot of love!
Finger painted Tile Coasters
Useful personalized gifts are always a great choice and any grandparent will love these modern tile coasters. Check out the details on this project over on Kathy's blog to get all the details.
We love this idea because it's super messy and fun for your kids and it's something grandparents will actually use. Plus, there are so many ways to customize it!
Fabric Resist Art Pillows
Pillows are a great gift because they're so personal. What better way to fall asleep than snuggling up with a pillow made by your grandchild? Choose colors that match their décor or let your little ones pick their favorite colors.
This fabric resist pillow project from Meri Cheri is a great way to let your kids explore their creativity while creating a wonderful personalized gift. Best of all, children of any age can take part.
Recycled Art Magnets
If you're looking for something totally unique and environmentally friendly, check out these delightful recycled art magnets on Kids Team Lab. You can use your children's old artwork or have them create something specifically for this project.
With only a few materials you and your kids can make a beautiful magnet set that they'll be proud to see on grandma's/grandpa's refrigerator. If you don't want to use artwork, you can also make magnets containing the fingerprints of each grandchild.
Decorated Golf Balls
If grandma or grandpa likes to spend their free time on the golf course, this easy gift idea over on Kate's blog is a must.
Your kids will love decorating these and it's a sweet way for grandparents to take a little piece of their grandchildren with them when they're playing the back nine. If they don't want to risk losing them during a round, displaying them in a glass bowl or vase is another great option.
Hand print Art Jewelry Dish and Ring Bowl
This is a really cool idea from Nell who gives you the step-by-step directions over on her blog, Rhythms of Play. We love the look of poly form clay and it's a great experience for kids, too. Kneading and mixing the colors together really makes this project a fun one.
Another great thing about this project is that it's not a typical hand print project. This bowl is a little more durable than paper crafts and can really last a long time.
Portrait Bookmarks
If grandma and grandpa are bookworms, this project from SouleMama is a great way for you and your kids to collaborate on a beautiful bookmark. Another great thing about this project is that you can use any leftover bits of fabric you have laying around.
While you might need to sew the fabric together to finish this one up it's totally worth it once you see the finished product.
Block Printing Art
This project is a little more involved and requires a little more investment from mom and dad but if you're a crafty family you'll definitely be up for the challenge. Take a look at the materials list and the step-by-step instructions over on the Glitter Goods post.
Once this project is framed, it really is a stunning piece of wall art that your kids will see hanging up at grandma's house for years to come.
Scrabble Tile Names
How adorable is this project from Shashablablablah? One of the things we love the most about it is that you can personalize it any way you want to. Make one using all the grand kids names or have your kids create a personalized message.
You can follow the directions in the post to make your own blocks or, if you prefer, buy pre-made ones to make things a little easier.
Grandparents Day Gifts from the Heart
We know we gave you a lot of ideas here but don't be overwhelmed! Just choose a project or two that you know the grandparents will love. There's plenty to choose from!
Remember, some of these projects require special supplies and equipment. That said, the majority of them use simple materials, some of which you may already have at home.
The biggest thing to remember is to enjoy the time you're spending with your kids to make these projects. It really is a big part of what makes each of them even more special.