*We hope you enjoy all the crafty posts! Just so you know some links on this page may be affiliate links. For more information refer to our Privacy Policy.
Valentine's Day is the perfect time to get a little creative and try out some fun DIY crafts. These little projects, which feature easy-to-follow instructions and helpful pictures, are a perfect way for kids to be entertained and have some fun. The best part? When they're all finished, they'll have the opportunity to show off their new creation to friends and family!
Super simple and fun to create, these yarn hearts from Cami at Tidbits are the perfect DIY project for crafters of any age. Kids will have fun choosing out their own colors and creating a unique little ornament that's warm and fuzzy. Once it's finished, don't forget to hang it up for all to see.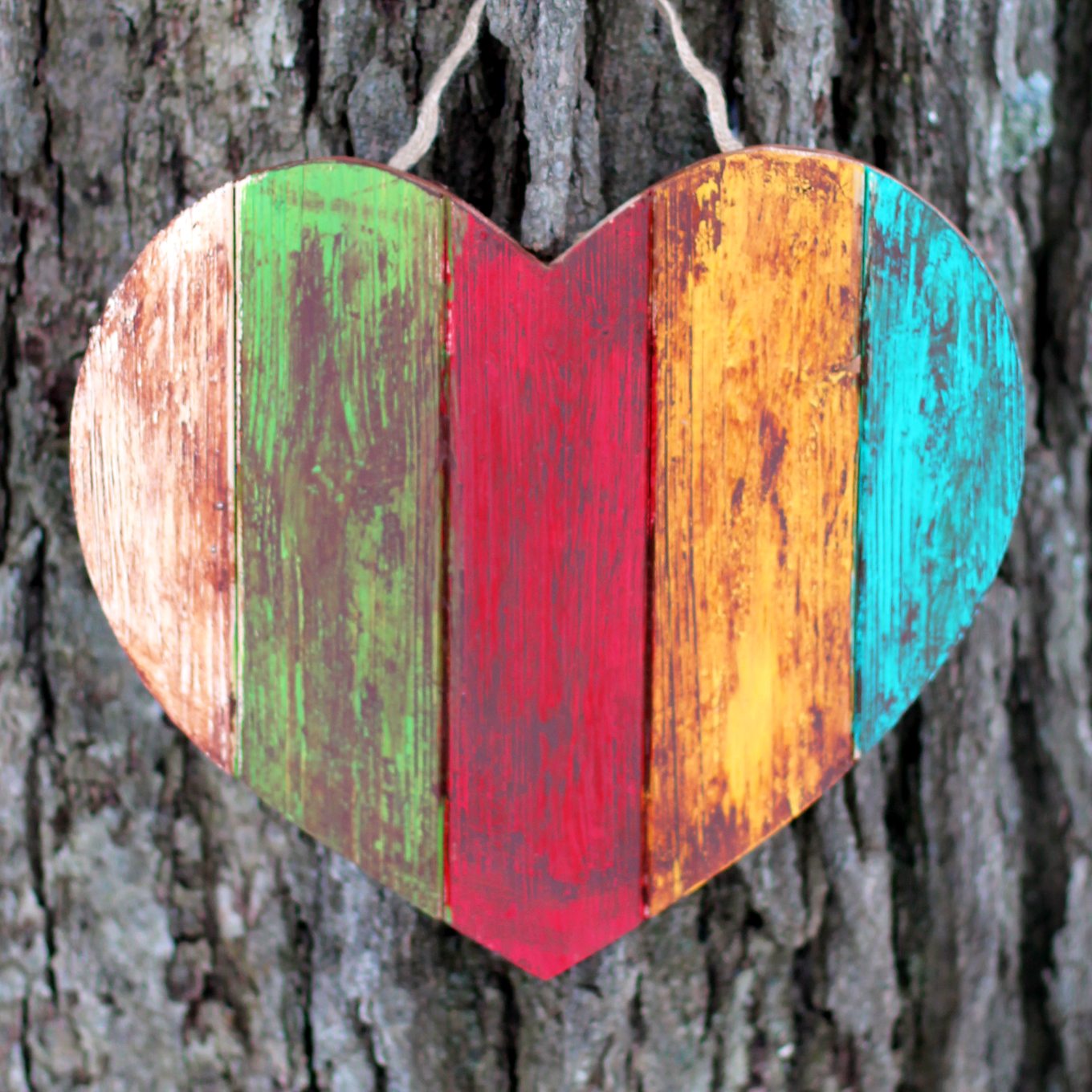 Let the colors shine with this pretty rainbow heart suncatcher from Melissa at Fireflies and Mud Pies. Crafters of all ages will enjoy making these easy projects using just colored tissue paper and glue. Once it finished, proudly display it in the window and watch the colors dance.
Sometimes having fun is all about getting a little messy. Kids will absolutely adore these Valentine shaving cream hearts from Hello, Wonderful. This project is very simple, only requiring shaving cream, paint and watercolor paper, and allows kids to get creative with their designs.
Perfect for the young kids in your life who want to get a little messy, this handprint flower card craft from Hope at Nanny Shecando is simple and easy. Kids will love using paint to transform their own handprints into beautiful flowers.
Kids love to get a little silly sometimes. With these goofy DIY heart hats from LotsofDIY, your young ones can get creative and have some laughs at the same time. To get started, all you'll need is a paper plate and some paint.
This adorable popsicle keepsake from Erica at Craft Create Cook, created using popsicle sticks, buttons and a few other odds and ends, is simple – and fun – to make. Kids can even write a little message on the inside to pass along to mom or dad.
There's never a bad time for kids to get a little creatively messy with paint. Now, they can showcase their holiday spirit with this fun canvas painting from Sarah at Farm Wife Crafts, made with their own fingerprints! The white space left behind spells out a heartfelt message.
With a little craft paper and googly eyes, kids can now create their very own heart man from Kim at the Resourceful Mama. Let them have fun and get imaginative as they piece together the project, resulting in their own unique design. Once finished, they can show off their new creation!
Using homemade dough and the squish of a thumb, kids can easily create these fun thumbprint heart ornaments from Kim at the Pinterest Parent. Once the dough dries, break out the paint for a finishing touch. From start to finish, this is a fun DIY craft that kids will love.
These candy kiss rings from Christine at So TIPical Me are super simple to make and fun to piece together. Whether your kids want to feel like royalty for a day or have a school party where they want to impress, these rings make for the perfect DIY project.
Instead of decking the halls it's time to throw some air kisses. Kids can celebrate the holiday by making this fun DIY heart wreath from Kim at the Resourceful Mama. Instructions are very simple and all you need to get started is construction paper, glue and scissors. If the kids are feeling really creative, they can even add designs with paint and markers.
Lots of kids love crafts that can be worn. This fun little heart friendship necklace from Marie at Make and Takes is easy to create and allows kids to be unique with their designs. In the true friendship spirit, kids can even trade with friends and classmates.
String art is a favorite of many adults, and now kids can give it a try too! This simple string heart from Bethany at Reality Daydream is easy to start, with a small block of wood and a handful of nails. Let kids get wild as they wrap the string in creative ways to create a fun heart design.
This fun craft allows kids to create heart trees, designed by Krokotak, using their very own hands cut out on construction paper. Then, they can use colorful hearts as leaves to decorate their new creation. With only a few supplies needed to get started, this is the perfect holiday craft to get kids having fun.
Deliver a sweet message with this fun and easy heart message banner from Jill at Sandy Toes and Popsicles. Kids can choose their favorite candy-heart messages, pick out fun colors, and string together this adorable DIY banner. Instructions are easy to follow and you don't have to worry about a big mess!
This fun paper heart garland decoration from Teach With Me is fun for kids to make and very simple to piece together. All you need to get started is construction paper, scissors and a stapler. Once the craft is finished, let your kids decide where to show off their masterpiece.
Everyone loves getting notes, even if they don't express true love. Kids will easily get in the holiday spirit with this fun chocolate mini mailbox craft from NoBiggie. All you need to get started is a bag of mini chocolates and some paper!
Kids love creating crafts that they can giveaway. This pizza card from Crystal at Surviving a Teacher's Salary lets kids express their feelings while also feeling like they can pass the love on. Plus, you won't be able to stop smiling when you read all the great holiday puns.
This pretty paper heart chandelier from Colleen at Inspired to Share is very easy to make and looks gorgeous when hung up. Kids will be able to add to the holiday decor and feel proud of their new creation. To get started, you'll need to colored construction paper, scissors, string and an embroidery hoop.